Pilgrimage Traveler Updates
Welcome to the blog for the Pilgrimage Traveler website, where you can follow all of our current pilgrimage trips and see our latest articles.
Journey along with us as we explore the sacred sites and holy places around the world! Stay current with all our pilgrimage travels!
Also, stay updated with all of our articles that reflect our thoughts and ideas on how to be a pilgrim in our current, stressful and rushed culture. You too can slow your life and your adventures with the mindful travel style of the pilgrim.
"In each of us dwells a wanderer, a gypsy, a pilgrim. What matters most on your journey is how deeply you see, how attentively you hear, how richly the encounters are felt in your heart." ~ Phil Coustineau,
from his book, "The Art of Pilgrimage."
---
Mar 06, 2019
Camino de San Salvador eBook Guide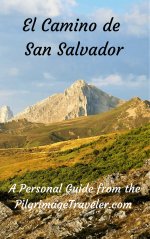 The Camino Inglés eBook is now available as a PDF download for you to purchase. Just click the "Buy Now" button below the photo and use your credit card or your PayPal account. It's as easy as 1-2-3.
---
Please Consider Showing Your Support
Many readers contact me, Elle, to thank me for all the time and care that I have spent creating this informative website. If you have been truly blessed by my efforts and wish to contribute, I am very grateful. Thank-you! (Please note that by clicking the Donate button, you will be directed to the Body Window, LLC, of which The Pilgrimage Traveler is a subsidiary).
---
Search This Website: