The Way of St. Francis Maps and Stats
The Way of St. Francis
Maps, Stats and Additional  Important Information
Just so you know, all Amazon and Booking.com links on this website are affiliate links. As an Amazon associate and a Booking.com associate, we will earn from qualifying purchases when you  click on these links. We sincerely thank-you as this is a pilgrim-supported website.

The Way of St. Francis maps and stats is my article who's intent is a continuation of my introductory article, providing even more useful and important information for your pilgrimage. 
As I describe in my introductory article, The Way of St. Francis, or La Via di Francesco is a modern Italian pilgrimage, from La Verna to Rome, following the life and times of Italy's patron saint, St. Francis of Assisi. If you walk this pilgrimage route, you will feel the spirit of this enduring man everywhere. 
"Praised be You, my Lord, through our Sister Mother Earth, who sustains and governs us, and who produces various fruit with colored flowers and herbs. ~ St. Francis of Assisi
The Way of St. Francis Maps and Stats
Following St. Francis and "Sister Mother Earth," below is the Google map I created from my GPS tracks, depicting the route we took in blue, the Via di Francesco del Nord, or the northern section from La Verna to Assisi, and for your convenience, the section we have not yet walked in orange, the Via di Francesco del Sud, or the southern section from Assisi to Rome (or Rome to Assisi depending on your direction of travel).
I have also included several alternatives in red, which we did not walk, but are also suggested in some informational sources. 
The southern routes' GPS tracks on my Way of St. Francis maps, I downloaded from the official, Italian Way of St. Francis website. I cannot guarantee their accuracy, as I found that there were route changes on the northern section, in which the official GPS tracks were not updated. There is always a band of organizations that make improvements along the way, and the website remains to be updated.  
The total mileage for the Northern route is 186 kilometers by our GPS measurements, or about 8-10 stages. I feel this is a relatively accurate number, after I removed the extra steps and the wrong turns we took a few times! Please remember that your numbers will differ as no two people's steps are the same. If you chose to not go to the Hermitage of Cerbaiolo (Eremo di Cerbaiolo) on day two, you can subtract another kilometer, for a total of 185.
According to the official Italian website, the total mileage for the Southern Route is about 300 kilometers, or about 12-14 stages. 
As I stated, in the introduction to this pilgrimage, this is a route full of ups and downs, in fact the total elevation gain for the northern route is a whopping 7191 meters (23,593 feet)!! 
Compare that to the total elevation loss of the same route of 7856 meters (25,774 feet) and you can see that the elevation changes are truly no joke! And all this over a mere 185 kilometers! It felt like whatever elevation we gained, we in turn lost, maybe not always on the same day, but eventually it was about net neutral, despite the enormous effort of most days.
Please scroll to the bottom of the page for links for each and every day on the Way of St. Francis maps and stats, to see the effort needed for the stages on this walk.
On this map, I have chosen to include churches, historical sites, accommodations, restaurants/bars, grocery stores and some fountains. I hope you find this useful. You can download this entire map by clicking here. (Remember that this file is most useful if uploaded to your GPS device, or another map application on your mobile phone. It has all the amenities, including accommodation on the map!)
The Via di Francesco essentially follows along the path of the mountain chain called the Apennines (Appennini in Italian), fondly known as the "spine of Italy." The Apennines run the entire length of the boot that is Italy and all the way into Sicily as well.
The pilgrimage starts at the Sanctuary of La Verna which is in the province of Tuscany (Toscana) and continues through Umbria which houses Assisi. It continues onward from Assisi and finally ends in the province of Lazio where Rome (Roma) resides. 
Accommodation on the Way of St. Francis
There is plenty of accommodation on this pilgrimage, as you can see from the Way of St. Francis maps with features above!
Please note that there are quite a few churches, hermitages and monasteries that take pilgrims for a donation, but there are many towns where your only option may be a high-priced hotel. The concept of albergues or hostels is not yet embraced fully on this pilgrimage, so it is important that you understand this one will most likely cost you more than a pilgrimage in Spain.
The agriturismos, or sustainable farms are prevalent throughout the countryside, but one of the most expensive options for your overnight stay.
On my Way of St. Francis maps, I have done my best to give you a wide selection of accommodations, including most importantly, the donation-based places and listings for economical rifugios, hostels, hotels and similar. If you are on a strict budget, study the map for each day, and plan your walk to stop at the best-priced places!
A word of caution is if you are walking outside of peak season which is from April to September, you must write or call ahead. Once into October, many more remote places shut down for the winter. If they know you are coming, they may stay open, but at the very least if there are no restaurants nearby they will need sufficient time to acquire food for you if you are not cooking or carrying your own.
Even during high season, most establishments in the countryside require advanced notice of your arrival. This is only courteous! 
My advice is that you at least inquire ahead a full day to see if your planned arrangements are going to work out for you. Almost all the donativos and parrochial accommodations will take reservations, and it is prudent to make them in all seasons, especially if you are on a strict budget and need the lower-priced accommodation. 
We walked in October and by the 2nd week into the month, we got caught without an accommodation on one stage because one of the hermitages had already closed for the season. We had not called ahead and didn't know! We scrambled and found a place, but the donativo in the mountains became a very costly agriturismo that made special last minute arrangements for us. Fortunately for us we could afford the change, but it was not a good feeling having to scramble. Without this luck, our day would have turned into a 38 kilometer day, and I would not have been a happy camper!
In the bigger cities like Città di Castello, Gubbio and Assisi, and in year-round places like the Santuario della Verna, you will have to worry less, but in order to get the best places for the best prices, early reservations are a must. Most certainly if you are walking during any festival days or holidays!
So please use my Way of St. Francis maps to find essential contact information so you can plan your stays sufficiently ahead of time.
And my final word of advice is always, always, always ask about pilgrim rates! On this route are well-loved and well-established pilgrim areas and often you will get a reduced rate, even if it is small!
Signage on the Way of St. Francis
It can be a little confusing at times regarding signage on this route, because each region you pass through changes its signs. However, all-in-all, always look for the yellow "T" tau insignia, that can appear in many ways; embedded into various style signs, stickers on signs and various sized painted yellow tau waymarks on rocks, street signs, buildings, sidewalks and just about anywhere!
The first few days in Tuscana (Tuscany), your best bet is to follow the little red and white square signs with the yellow tau on it, that you can see at the bottom of the signpost in the photo below. Sometimes this is the only sign you see to guide you, as shown in the next photo's small sign in the forest. (You can safely ignore any E1 signs as this is another long-distance European path that does not follow the Via for long.)
Way of St. Francis Signage in Tuscany
Also in the photo above, you can see two larger signs; the upper one shows you the direction if you are walking with La Verna as your destination (south to north) with the Passo delle Pratelle 1.04 km away and La Verna 2.14 km away.
The lower sign is to be followed if you are going in the direction of Assisi (north to south), with the next two places and their distances listed. You will see this type of signage frequently throughout this walk. 
Other times you will see the painted horizontal red and white stripes, that designate this is a CAI route, from the Club Alpino Italiano. 
I even saw the horizontal yellow and blue painted stripes, in the beginning stages, which is more common in the region of Umbria, which you reach after the 3rd day. 
Both of these trail designations appeared on this lovely stone building in Tuscany, on the way to Sansepolcro.
Once you pass Gricignano on the 3rd day and enter into Umbria, the signage is predominantly of this variety, shown to the right, similar, but newer looking signs with the ever-helpful distance figures to the next town or attraction on it. 
Below is a fine example of a painted waymark. The red/white stripes are now gone in Umbria.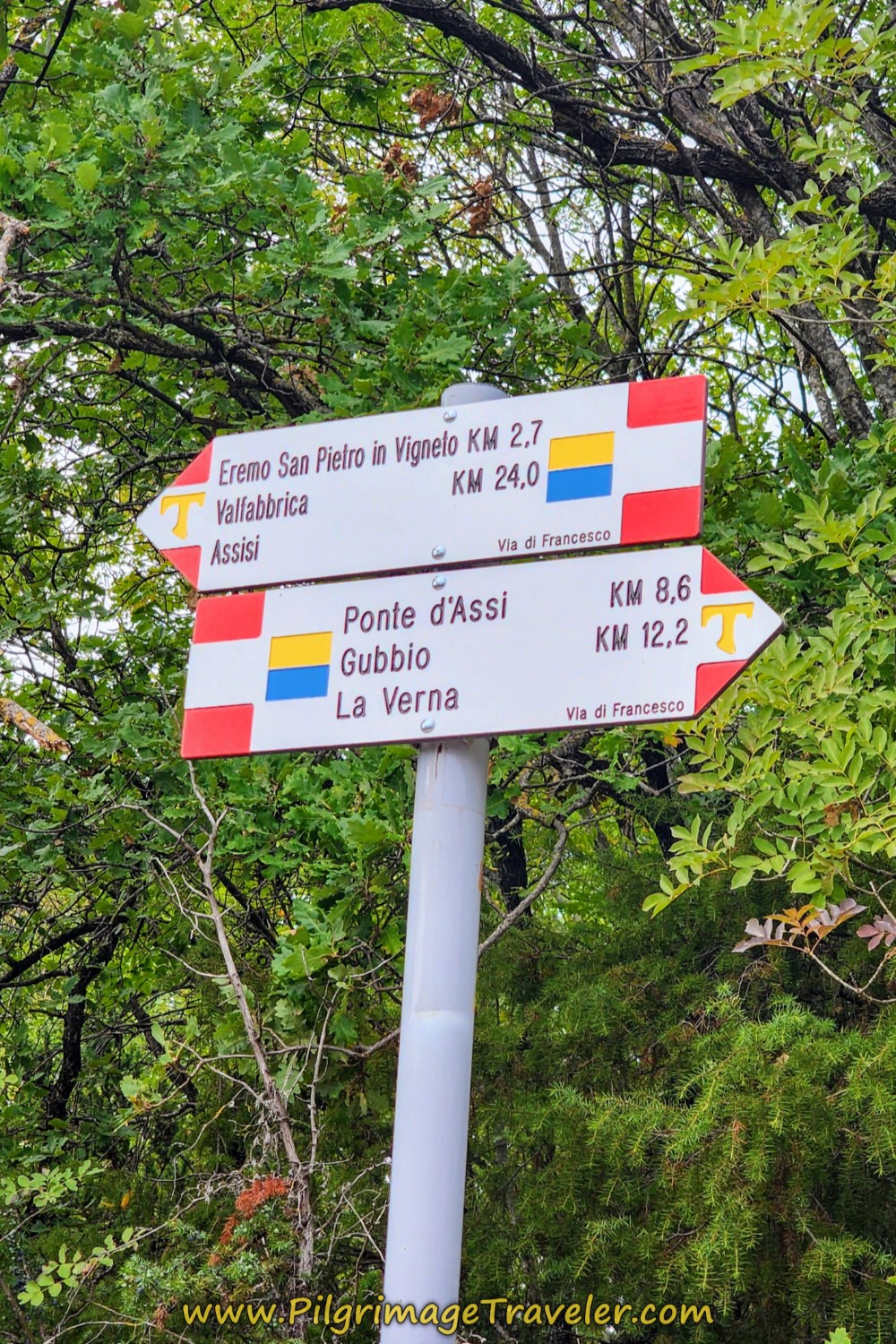 Clear Signs on the Via di Francesco in Umbria
Way of St. Francis Credential and Testimonium
You can write to the official Italian organization for the Via di Francesco, to obtain your Credenziale, prior to your walk. Please offer a donation to them for this service! They advise you to make the request at least 3 weeks in advance, and if you live outside Italy, at least 2 months. Mine came in the mail to the USA within only a few weeks, but best to heed their advice and allow plenty of time. 
There is no strict requirement for the number of stamp(s) (timbro, singular; timbri, plural) required per day. All the link above supplies is the following statements:
On it, at each stage, the dates and stamps of the places of hospitality are affixed. (This implies that one per day is sufficient, at the place where you stay each night).
The stamps and dates affixed to your credential will prove authentic.
Your certificate of completion is the Testimonium, shown to the left. The full title is the Testimonium Peregrinationis Peractae ad Sanctorum Francisci et Clarae Civitatem. You can get it in Assisi, at the Statio Peregrinorum at the Sacred Convent - Papal Basilica of San Francesco d'Assisi, Lower Square of San Francesco, 2 - Assisi, Tel. +39 075.81.90.01. This is on the lower level of the Basilica complex.
This is the Testimonium that you will receive if you end your pilgrimage in Assisi, from either the north or the south. 
You must have completed at least 100 kilometers on foot, or 200 kilometers by bicycle to qualify for the certificate.
If for some reason the pilgrim's office is closed, walk down the colonnade from the pilgrim's office on the lower level of the complex, and go to the information office halfway down, on your left, near the public toilets and they will give you a Testimonium there, without much fanfare. 

To get a Testimonium in Rome if your Via di Francesco ends here, you must go through security towards St Peter's Basilica. You cannot bring a backpack inside! If you show your pilgrim's credential, at the first metal detector, they will allow you to skip the line! Once inside security, follow signs for coat check/toilets to a lower floor just out front and to the right of the Basilica. Look for a glass booth with a guard. If you ask, the guard will give you a stamp and a Testimonium. 
Conclusion to the Way of St. Francis Maps and Additional Information
I hope you find my Way of St. Francis maps and additional information useful for your own successful Via di Francesco pilgrimage!
And finally, I leave you with St. Francis' next most popular writing, the Canticle of the Creatures. This is perhaps my personal favorite, and would become the essence of my own personal pilgrimage towards Rome, through the land touched by the saint on the Via di Francesco. 

Canticle of the Creatures
Most High, all-powerful, good Lord,
Yours are the praises, the glory, and the honor, and all blessing,
To You alone, Most High, do they belong,
and no human is worthy to mention Your name.
Praised be You, my Lord, with all Your creatures,
especially Sir Brother Sun,
Who is the day and through whom You give us light.
And he is beautiful and radiant with great splendor;
and bears a likeness of You, Most High One.
Praised be You, my Lord, through Sister Moon and the stars,
in heaven You formed them clear and precious and beautiful.
Praised be You, my Lord, through Brother Wind,
and through the air, cloudy and serene, and every kind of weather,
through whom You give sustenance to Your creatures.
Praised be You, my Lord, through Sister Water,
who is very useful and humble and precious and chaste.
Praised be You, my Lord, through Brother Fire,
through whom You light the night,
and he is beautiful and playful and robust and strong. Praised be You, my Lord, through our Sister Mother Earth, who sustains and governs us,
and who produces various fruit with colored flowers and herbs.
Praised be You, my Lord,
through those who give pardon for Your love,
and bear infirmity and tribulation.
Blessed are those who endure in peace
for by You, Most High, shall they be crowned.
Praised be You, my Lord, through our Sister Bodily Death,
from whom no one living can escape.
Woe to those who die in mortal sin.
Blessed are those whom death will find in Your most holy will, for the second death shall do them no harm.
Praise and bless my Lord and give Him thanks
and serve Him with great humility.
Way of St. Francis EBook Guide
** This digital eBook, in PDF format, contains all the valuable information in our web pages, for reading off-line in the mountainous and remote areas along this Way. Don't carry a heavy paper book, but use our digital book on your mobile device instead! You will not regret it! Click here for more information. You can deeply connect to nature, following in the footsteps of St. Francis, through the Italian countryside!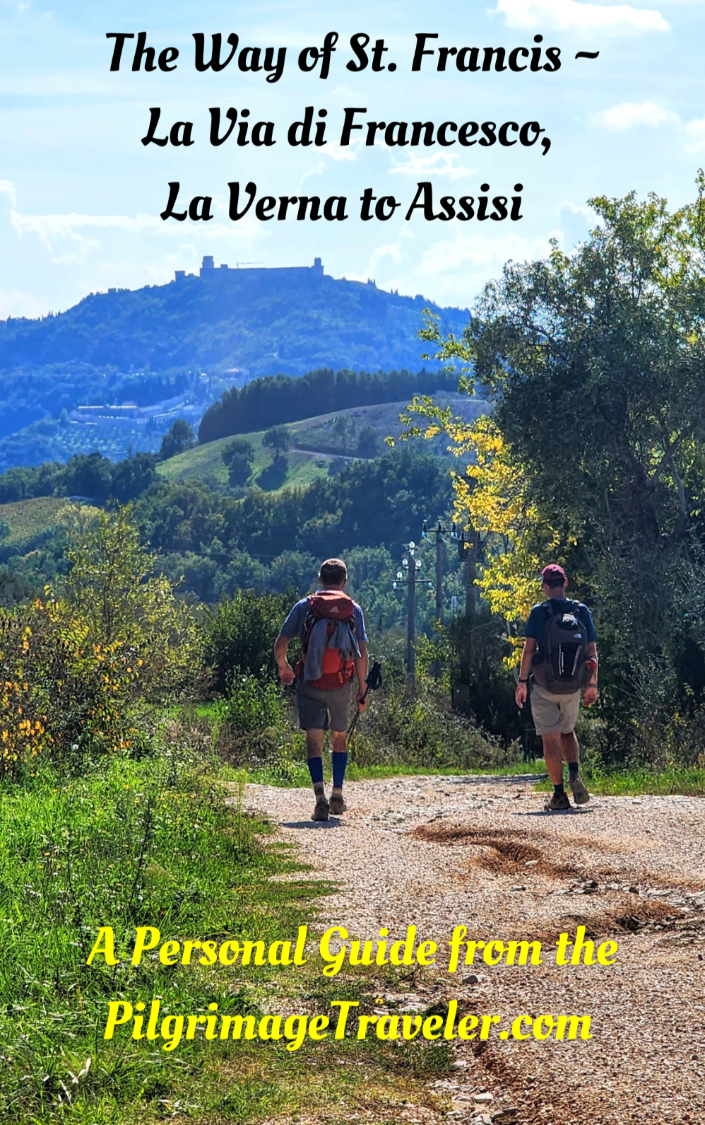 Way of St. Francis eBook Guide
And the Journey Continues:
---
---
Please Consider Showing Your Support
Many readers contact me, Elle, to thank me for all the time and care that I have spent creating this informative website. If you have been truly blessed by my efforts, have not purchased an eBook, yet wish to contribute, I am very grateful. Thank-you! 
---
Search This Website:
---