Day Four on the Camino Inglés

~ Hospital de Bruma to Sigüeiro, 24 Kilometers
Day Four on the Camino Inglés, from Hospital de Bruma to Sigüeiro is downhill all the way! And it is only 24 kilometers! We thought we were ready to sail through this day. And, maybe we were?

"We form connections with other travelers more easily, it seems, than we do with people at home because we share certain values that brought us here, and because there is an instant bond that somehow forms through shared hardship or adventure, and travel is both."   ~ Jennifer Miller, from Why Do We Have to Go Back?
Being on the Camino de Santiago and walking for so many miles each day brings many hardships and challenges that are often unforeseen, and day four on the Camino Inglés was no exception.The walking is not the hard part, believe it or not! At least not for me.

By day four, several things were starting to take their toll on me. I had no idea how difficult the challenges were to be! Indeed, the physical challenge of walking was easy compared to the cultural and personality struggles with which we were faced. I suppose when I set off from the USA, I thought I would be floating on a spiritual cloud nine all the time?? Ha! Was I in for a surprise!

The issues that I was beginning to struggle with were:
The constant packing and unpacking each day.
Difficulty of finding food at times you are actually hungry, especially breakfast.
Personality differences between you and your walking partner.
Having to deal with rain and weather.
Having to wash out your clothes every evening.
Dealing with wet clothes that didn't dry overnight.

The language barrier and having to constantly overuse your poor brain.
However, the single most important thing that kept us moving one foot in front of the other, was the shared hardship and adventure that we all had together as pilgrims. The shared goal. The shared spirit that helped each other. The shared adventure. It was very unifying. It was the glue that held it all together.

On the fourth day of the Camino Inglés, at least the walk itself was to much easier! As you can see from the elevation map below, from Gronze.com, it truly was all downhill. The worst on day three was behind us.

As you can also see from the route map below, there are not very many towns along this leg of the Way of St. James. It is a very rural journey on day four and carrying your own food was again extremely important. We were fortunate and had plenty of picnic leftovers from day three for our lunch. In addition, a fellow pilgrimage traveler, Fernando, gave us a bag of nuts, since he felt he didn't need the food or the extra weight. I gladly accepted the offering and put the nuts in my pack. Seems like we were ready to go.
We started out our day four on the English Way, at about 8:20, just a bit past the 8:00 a.m. deadline for vacating the albergue. We were the last ones to leave.

As you can see, it was a stormy start. It rained overnight, and drizzled for most of the morning as we walked towards Sigüeiro. I took this shot eastward, from the albergue in Bruma, as we set off. We were wearing rain gear, not sure what to expect for the day ahead. It looked rather ominous.

As we walked through the small town of Bruma, we saw this amazing little old stone church. It was what story books are made of! In the early morning, overcast light, the photo didn't turn out so well, but I had to include it here, because it is so picturesque.

At first glance of the photo below, this looks like a river, doesn't it? It is actually the wet road, reflecting the early morning light as we started off on the fourth day of the English Way. If you look again, you will see the headlights of the car off to the far right, which I included so you can indeed confirm that this is a photo of the road! Amazing, don't you think?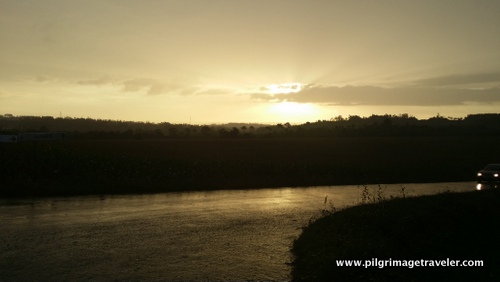 Wet Roadway
In a few kilometers time, one comes to the first Café Bar in O Porto. This was our first chance for a café con leche, which we took, along with the healthy portion of tostada (toasted bread). My Camino partner always did better with caffeine flowing in her veins, and I can't say that I minded either. It seems our Camino de Santiago was fueled with coffee!
However, it was always difficult for me to be satisfied with just a hunk of bread for breakfast and the beginning of a long day walking. Yet another way for me to adapt to the pilgrimage, despite being removed from my usual and familiar way of being. I knew I had lots of nuts and protein in my pack, so with my belly full, I plodded onward like a true pilgrimage traveler on a true spiritual journey!

Immediately past the Café Bar is this statue of Santiago, below, in his pilgrim guise. It was erected in the 2010 Holy Year, and is 6 meters high. It is a traditional place to get your photo or your group's photo taken. I obliged in the tradition:

Just beyond the statue is a very unusual, if not bizarre sculpture park. Unfortunately, I don't know any of the history of this eclectic mix of objects, but it was a nice diversion, and may have reflected the townspeople's sense of humor?

A tractor on rails...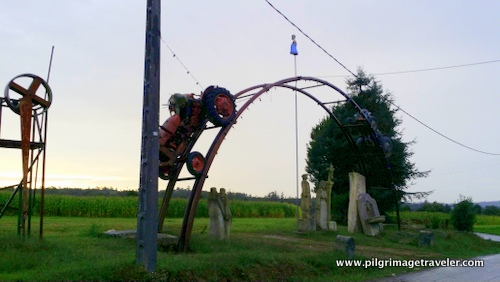 Tractor on Rails
Townspeople (?) and a cruceiro...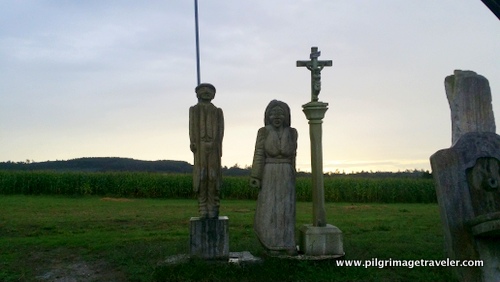 Statues, O Porto
Brontosaurus on a stairway (?) ...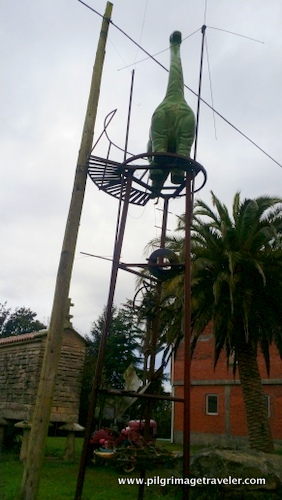 Brontosauras, O Porto
T-Rex?... All in all, the sculpture park was indeed an interesting diversion on day four of the Camino Inglés.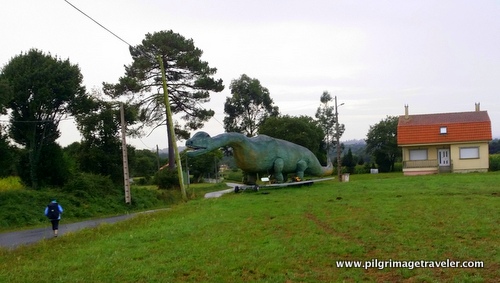 Tyrannosauras Rex
At 8 kilometers, we walked through the hamlet of Buscas and by the parish church, below.

Here is a close up of the 18th century statue of San Paio, a child martyr. This was a very unusual sighting and very beautiful!

San Paio, Child Martyr
The route from here is pleasant, straightforward and downhill. Here is a "peasant" woman walking down the street with her cane and babushka.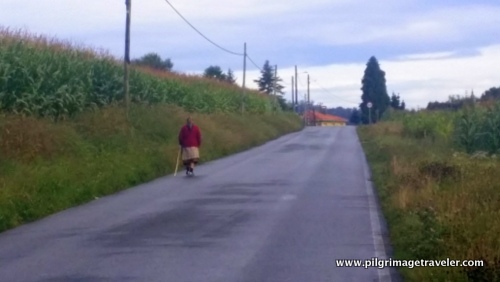 Old Woman on the Road
Fortunately, by mid-noon the storm abated, as we walked on.
By the time we reached A Calle de Poulo all the storms had finally blown over. We managed to dodge most of the rain.
The town of Poulo is essentially the halfway point. The Camino de Santiago comes upon a cruceiro in town, next to the Café  Bar, O Cruceiro, where we stopped and I took the photo of the sleepy town, below.
The last chance for lunch on day four of the English Way was at the Café  Bar, O Cruceiro in Poulo. We would have loved to stop and have a café con leche, however, unfortunately for us the bar was closed.
We decided to continue onwards, as the day was early and the weather was nice. There was always more rain in the forecast in this part of the world, so getting on with our day while the sun shined seemed prudent.

When you look closer at the picture above, you can see a gentleman taking a siesta. Kind of looks like old Mexico, doesn't it? Here is a close up of him. Too picturesque!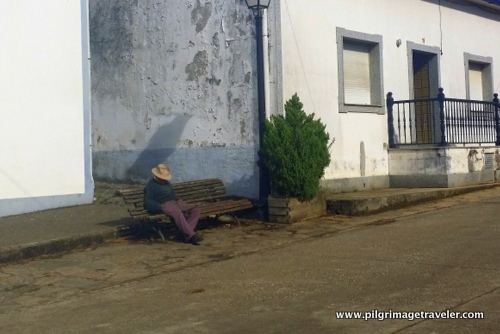 Old Mexico?
The sun was coming out and was drying up all the rain, as we walked past this interesting juxtaposition of the old next to the new.

Old Vs. New Buildings
After about 4 hours of walking and 18 kilometers, at around 12:30 we decided it was time for a long break for lunch. It was perfect that we came across this wonderful bus stop for our break. The catharsis of walking and the opportunity to fill our bellies made both Shelly and I happy!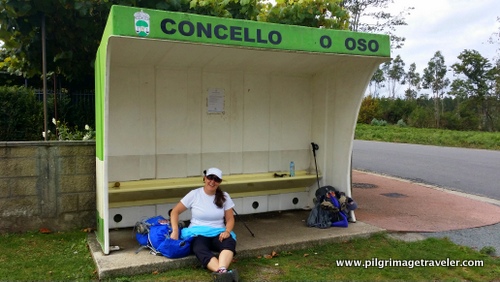 Shelly at Bus Stop Rest Stop
Right next to the bus stop was an entryway to a home with well-tended and glorious flowers and a helpful waymark, placed there, I am sure, by the homeowners themselves. It was not an "official" waymark. What kindness! I never failed to observe and be thankful when a local Spaniard went out of their way to help me on my Camino!

We had only 6 kilometers left after our lunch break and we essentially rolled into Sigüeiro. Here is a modern, yet inviting bridge on the outskirts of town, that lead into a lovely park and farther onward to a swimming pool.

We arrived in town about 2:30 in the afternoon on the fourth day of the Camino Inglés, and were able to go to the Café Bar and Restaurante Cortez to get a cerverza and a tapa before they closed for the afternoon. We went to the café quickly after a hasty check-in at our albergue, to ensure we could have something to eat before the town closed for siesta. We were learning our cultural lessons well! The restaurant is on the main street of Sigüeiro the Avenida Grabanxa.
When I went to order at the Bar Cortez, and began using my Tarzan Spanish, the older bartender replied back to me in perfect English! Wow! What a surprise! It was the first English I heard in an establishment. I said, "Your English is wonderful!" He responded with a grin, "That's because I am a clever boy!" I laughed out loud as he explained that he had lived in England.

We were recommended to stay in a new albergue called the Albergue Turistico. It was easy to find, as they had prominent signs along The Way of St. James with a stylized pilgrim on it. (For more choices in Sigüeiro to reserve on booking.com, click here).
It turned out that indeed, this was a lovely, clean, new and private albergue that I would certainly recommend myself. The cost was 16 Euro, breakfast included, much more than the municipal albergues, but the amenities we felt were worth it. 
The Albergue Turistico had a washer and dryer (the first we encountered), memory foam on the beds with real sheets, plush towels and even a foot massager, that you use for a few euro. What a luxury! Here is Shelly enjoying the massage!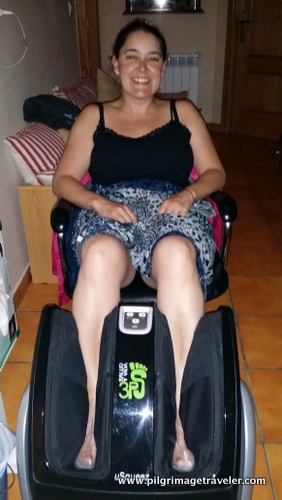 At the Albergue Turistico, Sigüeiro
But best of all, the proprietress was the warmest, most helpful person we had met yet! She was like our "Mama," fussing over us, and showing us all the perks of the albergue. She was so wonderful, hosting our home away from home, even though she didn't speak a lick of English!
We showered, then washed and dried all of our clothes, happy to share the cost of the loads for really clean and very dry clothes.
We strolled around the town of Sigüeiro, in the evening, but it had started to rain steadily, once again, so our stroll didn't last long. We were SO happy for the clothes dryer so we did not have to put on damp clothes in the morning.

We enjoyed the Restaurante Cortez so much for our afternoon respite, that we went back for dinner. We had another cerveza in the bar as we waited for them to open the dining room at 7:30 p.m. The meal was worth waiting for!

Pasta Carbonara, Ensalada, Flounder with Potatoes and White Asparagus
For dessert, I had Café Mexicana, a sweet, Kahlua-based coffee drink and well-decorated ice cream! At the Restaurante Cortez, the meal  was by far the best we had on the Camino Inglés.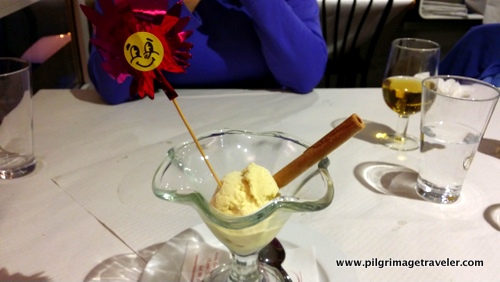 Ice Cream with Smiley Face and a Cookie
I had just put myself to bed, full and content around 9:30 pm on day four of the Camino Inglés, when Jaime, my new Spanish "family" member, came into the dormitory calling out, "chopitos, chopitos!" (Shots, shots!) He was inviting us out to the proprietress' kitchen where she was serving cookies and shots on the house, from her own pantry!
I dragged myself out of bed to join the "family" and the merry making. Here we all are. "Mama" is the second from the left in the back row, Shelly is on her left and I am on her right.
The coffee liquor she served was wonderful, but I had only a sip, as I had already indulged at the Restaurante Cortez.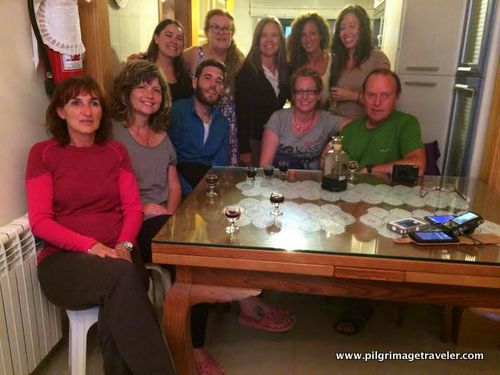 Mama and The Camino Family at the Albergue Turistico
We laughed and joked together and took strange group selfies. Mama is throwing a kiss to the camera on the far right. This is the best selfie from our friend Fernando, in the blue.

Group Selfie of the Camino Family
I retired for the second time shortly after 10:00 p.m. even more content than before. Our Camino family of pilgrimage travelers had again united and shared in the common adventure on the fourth day of the English Way.
The icing on the cake was when "Mama" came into the dormitory, tucked each one of us into our beds, with a big hug and double kisses on our cheeks! This being the perfectly warm ending to day four on the Camino Inglés! Please join me as the pilgrimage travelers enter into Santiago de Compostela on day five!

The Camino
Inglés

Stages:

---
**New Updated Version (9/2017) of My Ebook Including the Change in Route From Leiro to Bruma, on Day Three!**

---
Pilgrimage Traveler Home

›

Camino Inglés

› Day Four on the Camino Inglés
---
Please Consider Showing Your Support
Many readers contact me, Elle, to thank me for all the time and care that I have spent creating this informative website. If you have been truly blessed by my efforts and wish to contribute, I am very grateful. Thank-you! (Please note that by clicking the Donate button, you will be directed to the Body Window, LLC, of which The Pilrgrimage Traveler is a subsidary).
---
Search This Website: